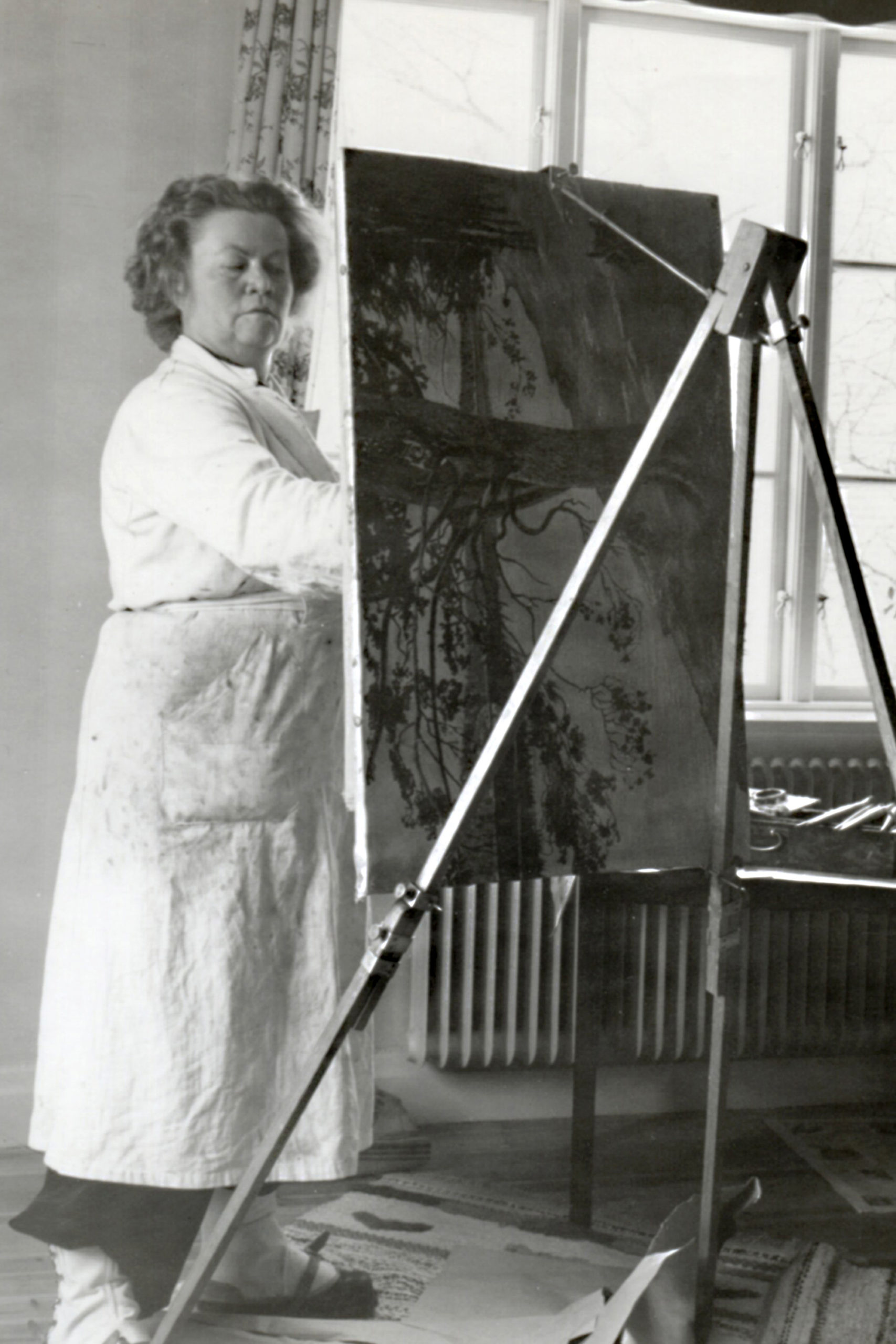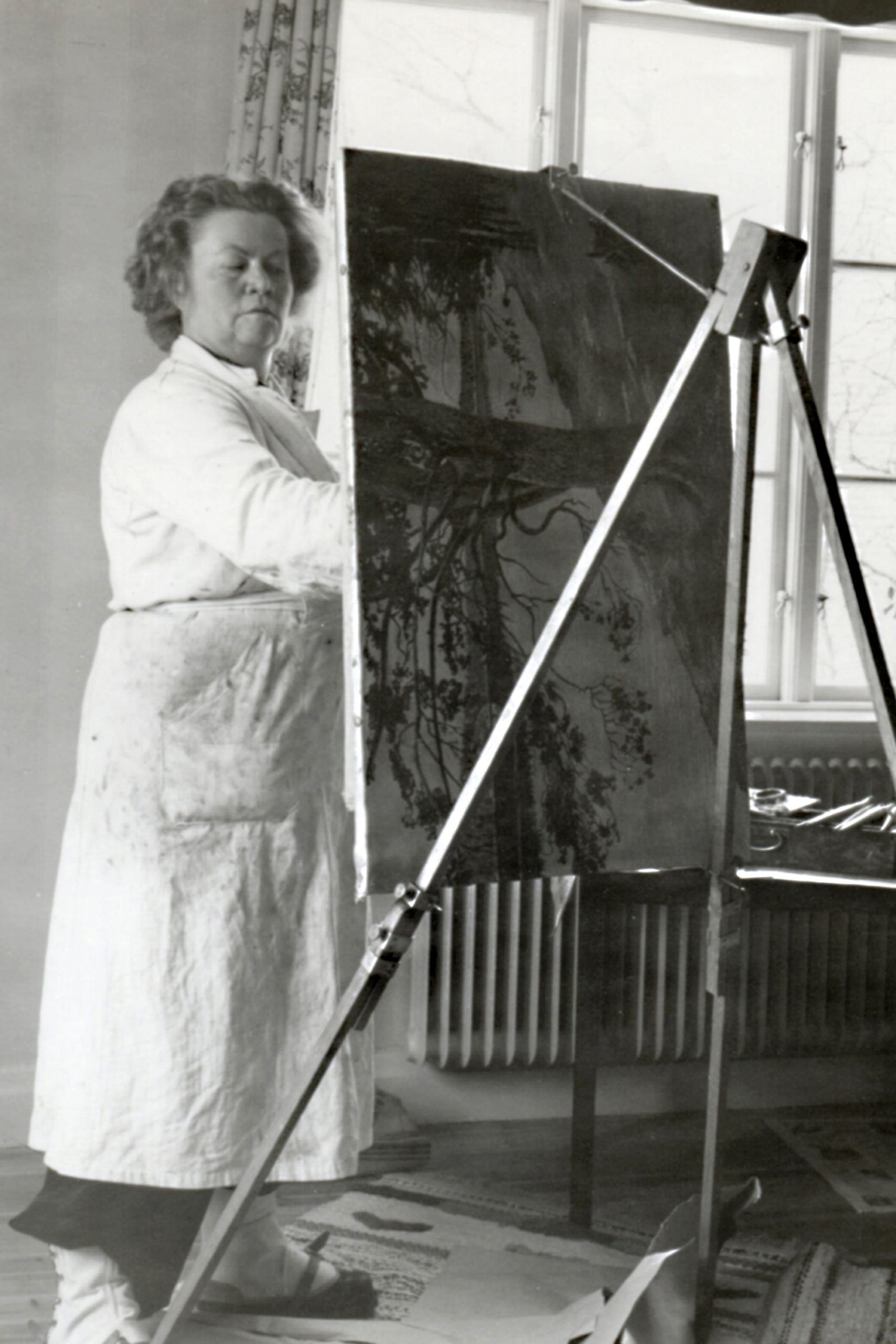 One of Kirsten Kjærs Museum's founders, Harald Fuglsang, writes:
"Kirsten Kjær was born on November 14

th

, 1893 in the village of Vester Thorup, in a remote part of the country between the Limfjord and the North Sea. Her father oversaw the local dairy. She was very sensitive as a child, and as a young woman she had difficulties in finding out whom she was. In 1918, at the age of 25, she got married to the painter Frode Nielsen (Dann), somewhat against her will. She had a hard time adjusting to a normal housewife life in the province, and in the years 1921-23 she spent most of her time touring with a theatre group and seriously considering becoming a professional actress. In 1924, however, she developed a severe depression, that was furtherly aggravated due to a surgical treatment for tuberculosis. She recovered and returned to Frode, who at that time made a living by restoring church furniture. While they worked together in the church in Løgumkloster, Kirsten took up the brushes and painted her first portrait, as a 32-year-old. From then on, she knew what she wanted. In 1926 she travelled with Frode to California, where she made her breakthrough as a painter. She returned to Denmark alone in 1929; here her portraits were received with great interest. She spent a few months with the world-famous author Karin Michaëlis, who as a result wrote '

The Vagabond of the Heart

' about Kirsten's wild life in America. But Kirsten felt betrayed by the book and the following winter she fled to Mallorca and Paris.
In the meantime, she had met the editor and playwriter Anders Olsen, whom she devoted much time and attention in the following years. In 1933 she was invited to Skagen to paint a portrait and here she subsequently met lot of interesting people and made many friends. She could stay for free with Ingeborg Østergaard at Skagen Hotel. It was here, where she met two of Sweden's cultural personalities, the author Brita von Horn and the poet Elsa Collin, whom she was deeply fascinated by. The two Swedes had their own house in Skagen, but spent the winter in Stockholm, where they tried to introduce both Kirsten and Anders to the local art circles. Through Anders, Kirsten got in touch with many politicians and actors, whom she painted, but she did not have time to paint as much as she would have liked to. Anders died in 1938 and World War II was just around the corner. Kirsten threw herself into helping political emigrants and she also placed her apartment to the resistance movement's disposal during the war.
In 1943, on her 50

th

birthday, the association Kirsten Kjærs Friends was founded, aiming to support her financially, in order to help her maintain the apartment in Lille Kongensgade in Copenhagen. Without this circle of friends, it would have been difficult for Kirsten to survive and maintain a base to always return to, after her many travels: to Warsaw in 1947, to Lapland 7 times in the following years, to Iceland from 1955-57, and to Tunis and Liberia in the 1960s. She maintained her vitality and ability to paint into old age – she was 91 when she started her last picture at the nursing home near the museum."
If you are interested in learning more about Kirsten Kjær, we recommend the following books:
Karin Michaëlis: The Vagabond of the Heart (1930)

Johan Møller Nielsen: Kirsten Kjær (1973)

Harald Fuglsang: Kirsten Kjær "Already as a child I was different" (2004) (can be purchased at the museum)

Movie: Kirsten Kjær – A vagabond of the heart (1982)

Film: Kirsten Kjær and Her Museum (To be oneself), by Jørgen Vestergaard (from 2008, 33min)

(can be purchased at the museum)

Kirsten Kjær (can be purchased at the museum)
Thanks to a generous donation from the 15th of June Foundation, a monograph is about to be written about Kirsten Kjær. Hanne Abildgaard who holds a Master of Arts, is the author. Herewith, one of the 20th century's prominent artists, along with a small private art museum in Northwest Jutland are entered in art history.